It's always been a dream of mine to travel to my favorite fictional locations. When I was six, this fantasy bubble burst when I found out that Narnia didn't exist (or does it?😉). Still, a girl can dream.
I mean. . . what else are our imaginations for?
You've probably felt the same way about a made-up place. Perhaps it's an enchanting land/world that's filled you with awe? Or a charming cast of characters that captured your heart?
Whatever it is, we've all been here before. . . wanting to be there. And I know where I would go and what I would do if the opportunity ever presented itself.
Explore Narnia
Wouldn't that be incredible? Just being in Narnia would be a dream come true. I would have a heart-to-heart with Aslan and go horseback riding with the Pevensie crew. Maybe even meet Prince Caspian? 😏
And Cair Paravel. . . I'd die to roam the grounds of that citadel. The scenery is absolutely gorgeous!
Oh and of course I couldn't leave without stopping for tea with Mr. Tumnus.
Yes, I'm very much in love with Narnia. Blame Lewis for that.
Fly Around Neverland With Peter Pan
Who could resist? Taking flying lessons with Peter Pan! How awesome is that?! I'd probably be a terrible student, though. 😬 I have a slight fear of heights.
Maybe I'd be better off sailing the seas with Hook. Or tramping through the forests with the lost boys. Ughh, there's so much to do in Neverland. I want to do it allll. Honestly, though. If Neverland was an amusement park. . . its inhabitants would be rolling in dough.
Have Second Breakfast With Hobbits
Eating one breakfast is great. . . but TWO BREAKFASTS?! With Pippin and Mary? There's no way I'm missing out on that. Just think of all the scrumptiousness Hobbits can cook up.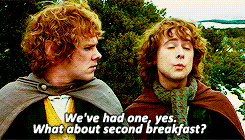 And the music! In the company of Hobbits, one never lacks entertainment.
Take A Potions Class At Hogwarts
As much as I love/hate Snape, it would be interesting to take a class under him. I'd probably be the next Neville. . . but who knows? Maybe I have a talent for brewing potions. If not, I'd be the #1 best stirrer in the class. I have experience in that department, at least.
And I'd want to turn to page 394. Just once.
Spend a Day In Beast's Library
Ahhh, I want this library sO bAd! This–not the prince–is what I dreamed about as a girl. Think of all the novels I could devour. I can just imagine myself making a fort out of those books, curling up in knit blankets, and drinking Mrs. Pott's tea. Heaven.
And being able to meet Belle? A fellow bookworm who's also a princess and owns this magnificent library? Yes, please.
Forget a day, I need a century to spend in this place.
Dual Westley In A Swordfight
I couldn't turn down a challenge from the king of snark now, could I? He probably could stab me in 5 seconds, but I have my ways. . . I shall defend myself with a shield of sarcasm!
I love witty banter, and he's the right person for that. It will be a battle of the wits! Winner takes all. *rubs hands together* And I intend to win.
Attend A Netherfield Ball
Oh, what would I not give to take part in a regency ball? The dresses. The tea. The parties of people! How lovely it all sounds. Especially if I could catch some witty exchanges between Mr. Darcy & Elizabeth. 😍
Though I must say, I might faint from the heat. 'Tis rumored to be terribly hot in a ballroom, especially in 19th century England. No problem. I'll just force Mr. Collins to carry a carriageful of fans. 😉 That'll keep him occupied and away from Elizabeth.
Do you dream of traveling to fictional lands/worlds? If so, what literary locations would you like to visit? Who would you explore them with?
Like this post? Pin it.