Because it's Valentine's Day, I'm giving you readers a treat. 😉 My list of TOP FAVORITE LITERATURE COUPLES. You're not going to want to miss this.
Darcy & Elizabeth, Pride and Prejudice
Oh who could count the hours I'd rave about Elizabeth & Darcy if I was left alone? These two are #1 on my favorite couples and they deserve it.
Like most of the others, they didn't get along at first sight. A better way to describe it is love at first fight (or the 2nd or 3rd).

Opinionated and witty Elizabeth clashing with arrogant and stiff Mr. Darcy = AMAZING dialogue. I have to hand it to Ms. Jane Austen, she has a way of creating complex characters that are intriguing & infuriating.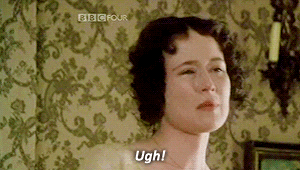 Mr. Darcy. *swoon* He's so sweet & generous & I can't say anymore or I'll spoil the book for you. 😉 But, I'll give you this, first impressions aren't all they seem…
Gilbert & Anne, Anne of Green Gables
First off… They're. So. Adorable. I mean, they've GOT to be the cutest couple ever created. As schoolmates, they didn't hit it off–Anne despised him, actually. See a pattern? Yes, I do enjoy a love-to-hate romance a great deal better than instant-love.
Yet, as Anne put it, "love unfolded naturally out of a beautiful friendship." A little rocky at first but they sailed through, going from school rivals to sweethearts. Gilbert's loyalty & Anne's charm has stolen our hearts for more than a century.
& they'll continue to charm us for years to come.
Mr. Knightley & Emma, Emma
Oh, Emma, you got to love Emma (faults + all). She has her own personality and isn't anybody else–she has an amazing arc too. And Mr. Knightly, well, he's the nicest Jane Austen hero (I like Mr. Darcy the best, but he wasn't nice at the beginning of the novel) there is. Instead of flattering Emma as the other characters do, he honestly confronts her on her faults. It shows how much really cares about her.
"If I loved you less, I might be able to talk about it more."

Mr. Knightley, Emma
Mr. Rochester & Jane Eyre, Jane Eyre
I know many people think Jane Eyre & Mr. Rochester's romance is a little weird and even creepy, but I like them. The gloomy mood has a lot to do with the setting–Thornfield Hall. A gothic mansion with mystery hidden in its walls (me likee).
Though set in the Jane Austen time period, this gothic novel has more thorns than roses. For those of you who like a Jane Austenish/Beauty & the Beast (minus the beauty) romance, you should give this novel a read.
Laurie & Amy, Little Women
OK, so I know everyone is supposed to hate them and Jo was supposed to end up with Laurie… but can I just say that I think they're really cute together? Is that allowed?
I realized that, though Jo and Laurie would make a lovely couple, they wouldn't make it in marriage. They're too much alike and fight like cats. That's why I'm glad Jo settled with someone calm like Professor Bhaer and Laurie someone refined like Amy.
Laurie and Amy's romance isn't mentioned much in the book but in the 1994 version (when Amy's a kid) they're adorable. Go. Watch. It.
*sidenote: CHRISTIAN BALE is the best Laurie. Hands down.
I will always defend these two.
Westley & Buttercup, The Princess Bride
These poor dears. 😀 Oh the torture they had to face before being reunited (literally). This movie is probably one of the wittiest movies I've ever seen–thanks to Westley.
Buttercup is a flat character and a little…petty, but Westley is amazing. He's the king of snark.
Go watch the movie & read the book… Do it for Westley! I promise you won't regret it.
Prince Caspian & Susan, Prince Caspian
I can't leave without mentioning my favorite prince, can I? 😉 I know Caspian and Susan aren't a couple in the book, but there is definitely some chemistry between them in the movie.
These two are the kind of couple that I wished would've happened in the book and dreamed that it did happen in an epilogue. In cases like this, we must read between the lines. 😉
And that's the list of my top favorite literature couples! Comment down below which one is your favorite! 🙂 And, as always, if you like my content click the follow button to follow this blog. Happy Valentine's Day! <3